IT'S A RUGGED ROAD - PACK LIGHT
To be rugged is to be weathered, well-worn, capable, battle-tested, and dependable.
At Rugged Road, we believe that in order to truly grow, you must first step out of your comfort zone.
While some may choose the easier path in life, the path less traveled is the one that will shape who you are. 
There are no shortcuts to any place worth going - so get outside and embrace the RUGGED ROAD.


Mission Statement:
To provide quality, cost effective products that kindle outdoor adventure
and to utilize business to implement sustainability in developing communities globally.
"Boreholes (such as the one pictured below) can provide access to clean drinking water to hundreds of people in developing communities. Having the opportunity to raise funds for this well changed my life in ways I could not have imagined, and has given me a purpose greater than just running a business. I will donate 10% of Rugged Road's annual proceeds to the Rugged Road Foundation. The primary focus of the foundation will be to build wells in developing countries around the globe, with the help of people like Zakaria Yakuba (pictured left)." - Spencer Sutlive, Founder & CEO
Did you know that 771 million people around the world still lack access to clean water today? That's nearly 1 in 10 people.
When you shop with us at Rugged Road, not only are you supporting a local business, but you are helping us serve families in need with the gift of clean water.
As of March 2022, we have raised just under $40,000 through the generosity of those on this journey with us. With this money, we have officially broken ground on our first well in Niger, one of the poorest countries in the world. Just one well will bring water to an entire community of people. We are overwhelmed with excitement to see our vision come to life.
If you feel moved to donate or contribute, you can do so by clicking here.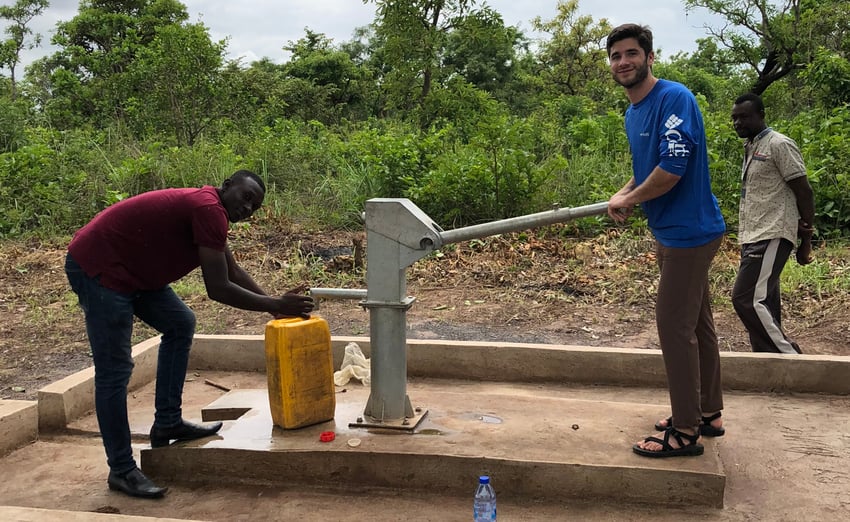 Meet the Founder
I founded Rugged Road after graduating high school in 2016. Most of my free time is spent outdoors doing anything from white water kayaking in the Southeast, to scaling rock faces in Yosemite. Rugged Road was inspired by my love for adventure, and I've made it my mission to curate the highest quality gear for any outdoor enthusiast to rely on. 
About Rugged Road
It all roots back to a high school chemistry demonstration. A chemical engineer was visiting my class to exhibit a proprietary coating that he had an extensive background in. This versatile coating has been used to protect the bottom of humvees from explosives, to blast-proof the walls of the Pentagon after 9/11, and even to coat water treatment pipes. Needless to say, it was incredibly durable, and I knew this technology could be a game changer if used in the manufacturing process of consumer products. 
I was soon studying full time at UGA while also working odd jobs to raise money and bring my ideas to life. After a few years of hanging off buildings washing windows for money and selling various apparel to begin building my brand, I decided it was time to launch a Kickstarter campaign. My primary goal for the campaign was to gauge the market's appetite for an ultralight high performance cooler. I had a clear answer when our fundraising goal was crushed within just 24 hours of launching. 
By 2019 coolers were selling faster than we could make them, so I decided it was time to meet with potential new investors and manufacturing partners. Once we had coolers out in consumers' hands for some time, I asked for feedback - the good, the bad, and the ugly. From this, I took what I knew was working, and partnered with an engineer to fix what wasn't. Together, we honed in on the cooler's features and polished it to become the retail-ready version that you see today. 
Rugged Road has been my entire life since day one. We have now sold coolers to people in all 50 states, and look forward to all of the growth to come.
- Spencer Sutlive (Founder & CEO)